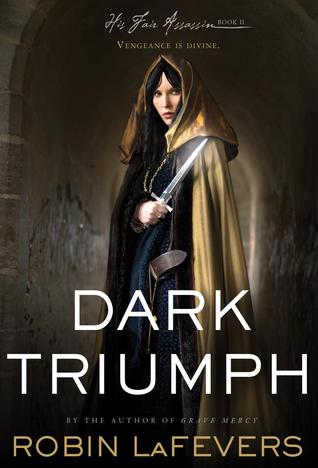 Rating: 4.5/5
Summary: When Sybella arrived at the doorstep of St Mortain half mad with grief and despair the convent were only too happy to offer her refuge – but at a price. The sisters of this convent serve Death, and with Sybella naturally skilled in both the arts of death and seduction, she could become one of their most dangerous weapons.

 

But her assassin's skills are little comfort when the convent returns her to the life that nearly drove her mad. Her father's rage and brutality are terrifying, and her brother's love is equally monstrous. But when Sybella discovers an unexpected ally she discovers that a daughter of Death may find something other than vengeance to live for…
Another book brought to me by my book club! I read Grave Mercy about six months ago immediately after I finished Sarah J. Maas' Throne of Glass series. I had initially blacklisted all assassin novels assuming I wouldn't like the concepts. After reading both Mass and Lafevers' versions that brought fantasy to the adventure and action that comes with being in an assassin novel, I completely fell in love.

And six months later, I haven't found an assassin novel I haven't loved. Dark Triumph was no exception. 

I used to hate series who focused on a different character in each book. It's taken me a long time to get over it. In fact, even to this day, some of my favorite parts in books in these series are the references to characters that have been met previously. However, as soon as I found out this would be Sybella's story, I quickly cast Ismae out of my mind. Sybella was such an interesting character to observe from the outside and inside perspective. From the Grave Mercy book, all we get about Sybella is that she has been traumatized and has endured a lot in her life. Learning about Sybella and what made her the way she was my favorite part of the whole book.

We start off the novel finding out that the Duchess' enemy, D'Albert, is Sybella's father who she came back to under coven orders in order to kill the man. Along with that, Sybella had been essentially forced into an incestuous relationship for a long portion of her life with her older brother. These collective experiences all seemed to accumulate to the point that as soon as Sybella got to the coven, it was the only place she had ever felt safe. And even then, she was never the favorite as her friends had been.

I loved the development of Sybella. I especially love how strong of a female lead she was. She was stubborn and kickass. She did the right thing for the people she loved. She was such a well-defined character under the general pretense of being perceived as crazy. However, she wasn't totally without flaws. She spent the whole book wanting to kill someone. She kept secrets and lied to protect herself. But I loved it. I loved her character as a whole. She meshed so well with Ismae who was so kind and soft compared to the harsh shell Sybella had wrapped herself in.

This book also did an excellent job of diving into Beast. He was a substantial character in the first book of the series, but it was so different to see him cast into his leading man role. When I read about him in the first book, I felt like he was essentially supposed to be the lovable comic relief with a big heart (i.e.: the Hagrid stereotype). Learning about his past and what led him to hate D'Albert more than just for the reasons involving the Duchess showed a much deeper side to him that I really appreciated. I actually think out of all the things Lafevers did so well in this book, the fact that each character had several dimensions was my favorite. What you saw at the surface or even the first or second layer was not all that was there. Every character was so diverse and unique in its own way.

Even Annith, who didn't even make a physical appearance, began to slowly form to show the layers of the character she had become. I really enjoyed the fact that this author didn't need to force it in, but she slowly dropped the hints of Annith in to keep readers on their toes for the third book in the series. I often find writers overbearing when they consistently drop plot points throughout the novel in a super obvious way that they want you to pick up. Robin Lafevers' subtle hints seemed to flow naturally throughout the text without me getting sick of it.
This fast paced book kept my interest the whole time from the action, surprises, and intense character development. It exposed old and new characters to try and keep everyone engaged throughout the novel. I really, really loved this book and I am so excited to read the third installment.

~Taylor~
"You know what the secret is? It's so simple. We love books."