For anyone who doesn't know, I am a part of Addicted to YA on goodreads. Every month, the club picks and votes on four novels to read each month. So today, I finished the first of many books for book club that I will be reviewing on the blog! Yay! I'm excited. I'm also excited that of all the novels it could be, it is Dreams of Gods & Monsters by Laini Taylor!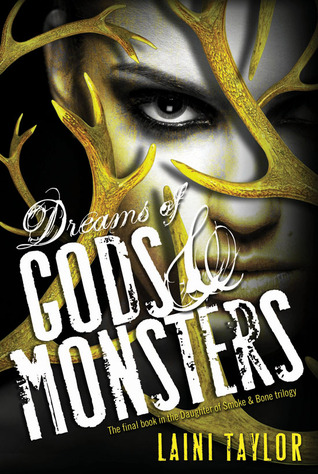 Rating: 5/5 stars

Summary: By way of a staggering deception, Karou has taken control of the chimaera rebellion and is intent on steering its course away from dead-end vengeance. The future rests on her, if there can even be a future for the chimaera in war-ravaged Eretz.

Common enemy, common cause.

When Jael's brutal seraph army trespasses into the human world, the unthinkable becomes essential, and Karou and Akiva must ally their enemy armies against the threat. It is a twisted version of their long-ago dream, and they begin to hope that it might forge a way forward for their people.

And, perhaps, for themselves. Toward a new way of living, and maybe even love.

But there are bigger threats than Jael in the offing. A vicious queen is hunting Akiva, and, in the skies of Eretz … something is happening. Massive stains are spreading like bruises from horizon to horizon; the great winged stormhunters are gathering as if summoned, ceaselessly circling, and a deep sense of wrong pervades the world.

What power can bruise the sky?

From the streets of Rome to the caves of the Kirin and beyond, humans, chimaera and seraphim will fight, strive, love, and die in an epic theater that transcends good and evil, right and wrong, friend and enemy.

At the very barriers of space and time, what do gods and monsters dream of? And does anything else matter?
Dreams of Gods & Monsters is the third book in the Daughter of Smoke & Bone series. I am actually ashamed to say I had never heard of the series prior to the third book popping up in book club. I only joined this book club about a year ago, so there are tons of books that they've read that I haven't. One major flaw of this is I often find myself trapped when book club is reading the fifth book of a series, and I haven't even read the first. Honestly, a lot of times, when I read all the books in a series consecutively, it is really hard to keep on track. Being in one world for so long is really difficult if the series isn't really, really well written. Aside from getting used to the style that Laini Taylor has when writing these books with the various shifted points of view without any real indication, I managed to get into the first book very easily and from there, I fell in love with this series.
I have a confession though. When I started this series, I was sure I was going to hate it because… well… because I've never read a book about angels that I haven't HATED. Well, at least as far back as I can remember. When people and/or book club recommend me angel books, I dread them the whole time due to the various stereotypes that seem to surround them. The same thing ended up happening to me and vampire books for a while. They became so predictable, it wasn't any fun to read them anymore. Laini Taylor completely defied all expectations I had coming into this book.
THINGS I LOVED:
THE CHARACTERS – Together. Apart. These characters were fantastic. I found myself falling in love with the creatures that most novels and legends have always told us to hate. Laini was able to spin a tale where … maybe the angels aren't necessary always the 'good'. Or maybe they think they are and it just becomes misconstrued throughout generations. I loved how every character was real. Even the 'evil' or 'bad' characters had something they were trying to do good towards (except for Morgan Toth and Jael… and Esther. You suck, dudes). It was a great reminder that everyone has good and bad in them, even the leading man of a novel series.
I think I am with the mass majority when I say my favorite characters were Zuzana, Mik, Liraz, and Ziri (besides our two protagonists). It was refreshing in a story of life and death and war to have characters like Zuzana and Mik who were human and in love and more loyal than any character I have ever read. Both characters seemed to emphasize the good in humanity in a story full of monsters and angels. Oh and Mik was so badass when dealing with Esther. SPOILER ALERT SPOILER ALERT If Zuzana hadn't agreed to marry him, I would have 😉 END SPOILER ALERT. Though, if I have to admit, I think Liraz was my favorite character overall. It wasn't necessarily the character that I loved, but the dynamic changes she went through as the series progressed. Honestly, I'm a sucker for a well developed dynamic character. I went from hating her in the first book to shedding a tear over her when she saved Avika's life. However, I think it was towards the end of the book that I really felt for her and how much she had to give the world.  Oh, and her relationship with her brothers was the cutest. I got emotional from how cute it was multiple times. No lie.
And last on my list: Ziri. I think Ziri deserves his own paragraph with how much I loved him. The thing I loved most about him was how he made this giant sacrifice… and he hated it. He hated that he did it, even if it was for the greater good of his species. He allowed himself to go through the book appearing as though he was the monster that Thiago was… and then SPOILER ALERT SPOILER ALERT gave up his life willingly for the greater good. He even knew that he hadn't set anyone up to collect souls, but he still died for his people and the cause. The honor behind this character stole my heart. I was overjoyed when he and Liraz got their happy ending together. They both deserved someone kind and loyal and honorable. I was beyond happy about their conclusion of the story. END SPOILER ALERT
And last, but not least, on the things I loved about the characters, I have to talk about Kaoru and Avika. My favorite thing about them was that even though this was an instantaneous love story, their love did not take away from their duties. When Kaoru found out that Avika was one of the leading factors of Brimstone's death, she didn't shrug it off because he did it because of her. The loss of each other was a big thing in their lives, but their love wasn't the only important thing. It was fantastic for me because Kaoru stood for her values and when Avika went against them, she didn't back down. She was a strong female lead without being a stereotype. She still had a big heart while holding true to her ideals.
THE PLOT TWISTS – I did not predict a plot twist at all throughout this whole series. The author placed so many questions throughout the book and did not disappoint when the answers were revealed. With current books, it is all too common to place an abundance of hints about the course of the book and then go with the predictable ending because it is easier. Laini stayed away from this method completely. I was much more fulfilled through the various reveals in the book because while there were some minor hints in the book, they were not predictable or easy to guess.
THE FORMAT – As I admitted before, the format used to confuse me to no end. The sudden shift between characters with no marking confused me at first. Additionally, I am actually really picky about the way points of views are expressed in books. I was almost turned off this book in the beginning, but I'm very happy to say I stuck with it and Laini converted me. I loved the way she told her story. All too often in third person, it is focused upon a central character. If that character is not in the scene, then the reader must learn the various twists and turns in the book as that central character does. With Laini's switching point of views, multiple characters were explored, and we got a sense of what was in their heads. This method worked especially well with the introduction of Eliza, but I liked it even just to see what was going on in Mik and Zuze's own story during the mass chaos of Kaoru's.
SPOILER ALERT SPOILER ALERT THE ENDING – There are very few epilogues I have ever read that I actually loved. Too often, authors feel the pressure of their readers and tend to flop during the epilogue because they want all their characters to have a happy 'ending'. Point blank. Usually all the main conflicts have been filled and the characters spend the rest of their lives just happily chilling in the world. Life doesn't work that way. It doesn't say 'oh, you had too much turmoil already, let's make you happy for the rest of your life. You deserve that.' That's an unrealistic expectation. The end of this novel left more questions and more conflicts. Kaoru had to recover and resurrect the souls that Brimstone saved while Avika had to learn to control his magic. On top of that, there was still Eliza and the godstars' conflict. The conflict of the books – the war between chimaera and seraphim – was resolved, but Taylor left so many more conflicts open. At the end of the series, Avika and Kaoru don't just find their happiness together. They still have to continue working in their lives to achieve that happy ending they so desperately hoped for. In fact, my favorite quote/paragraph from the novel is as follows:  " It was not a happy ending, but a happy middle – at last, after so many fraught beginnings. Their story would be long. Much would be written of them, some of it in verse, some sung, and some in plain prose, in volumes to be penned for the archives of cities not yet built." The ending was not a beginning, but simply the middle of Kaoru and Avika's story. I think this was the thing I enjoyed most in the whole series. END SPOILER ALERT
THINGS I LIKED… BUT DIDN'T EXPECT TO:
ELIZA – When I started this book, I was so confused what Eliza had to do with it. Here was some girl who worked in a museum in DC… and focused on butterflies. What? How do butterflies tie into angels again? I enjoyed the places the author went with Eliza though. I liked how she tied into the plot and left room for more questions in the future.
RAZGUT – I really liked learning how he became a fallen. Razgut's story was actually one that plagued me throughout the whole series. In fact, I was terrified that Laini Taylor would end her book series without explaining what happened to Razgut. It was an irrational fear, I know, but the character was extremely interesting to me. I wanted to know how he became a Fallen and how he knew so much about the portals. His story tied in beautifully and I was not disappointed in the least bit. In fact, I almost felt sorry for him at the end. Shocker, I know! I think my favorite thing that I learned in this novel about Razgut was who his next victim turned out to be. I had to stop reading for a while because I was laughing so hard.
THINGS I HATED:
MORGAN TOTH – u suck, dude
All in all, Dreams of Gods & Monsters was a wonderful read. I highly recommend it to all of those who love YA fantasy. I am very glad that Addicted to YA picked it as their monthly novel, and I look forward to reading more of Laini Taylor's future writing!
~TAYLOR~
"You know what the secret is? It's so simple. We love books."